Coleg Cambria have applied for planning permission (P/2018/0638) to demolish some parts of the Grove Road campus, and construct a large, new building in their place. The new building will sit to the south of the former red brick Grove Park Boys School, and replaces several smaller buildings that were added over the latter part of the 20th century. Whilst the new building will not be physically connected to the older building, a section of the new building (furthest from Chester Road) does protrude at the rear, giving the impression from Chester Road that there is no gap between the two.
It would appear that the former Grove Park Boys School building is kept as-is, but as the new building will have three floors, it will be considerably taller than the existing red brick school. The facing materials of the new building are also worth examining.
Grove Park Boys School was opened in 1902, and although pretty much unchanged externally, is not a listed building, and sits just outside the Grosvenor Road Conservation Area.
There is also a milestone along the front edge of the planned new build site, which is detailed on the Clwyd-Powys Archaeological Trusts record CPAT104153. Although the site plan does make mention of the fact that the milestone will be retained, there are no other details given about how it might be protected during the construction phase.
Proposed Chester Road elevations

(The original Grove Park Boys School can be seen to the right in the image above)
Proposed Llwyn Isaf (Guildhall / Library car park) elevations

Artists impression - aerial view from Chester Road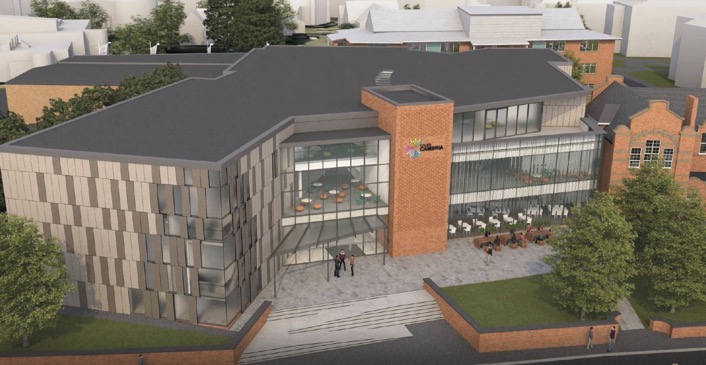 Documents forming part of this application:
Pre-Application Consultation Report
Proposed East and South Elevations
Proposed West and North Elevations
Save Our Heritage support this application, and have submitted the following comments via the Wrexham Council Planning Portal:
"We support this application, as we are aware that the college is land locked and in desperate need of additional, modernised teaching space. The proposed building should satisfy this need in an aesthetically pleasing way.
The use of brick along the Chester Road frontage of the new building should tie in with the former Grove Park Boys School building (G block), so careful choice of materials is essential (callout 6 on Proposed Elevations (1) plan).
There is no mention of how the contractor intends to protect the post-Medieval milestone that sits on the site boundary (Chester Road) during the construction phase. This milestone is referenced on the Clwyd-Powys Archaeological Trust Regional Historic Environment Record as entry number 104153. It is noted that the plans detail that the milestone will be retained, presumably in the same location as it is now."